Salud! Signature Tasting Event to Benefit Gabriel's Angels
October 18, 2019 6:30 PM - 9:00 PM
---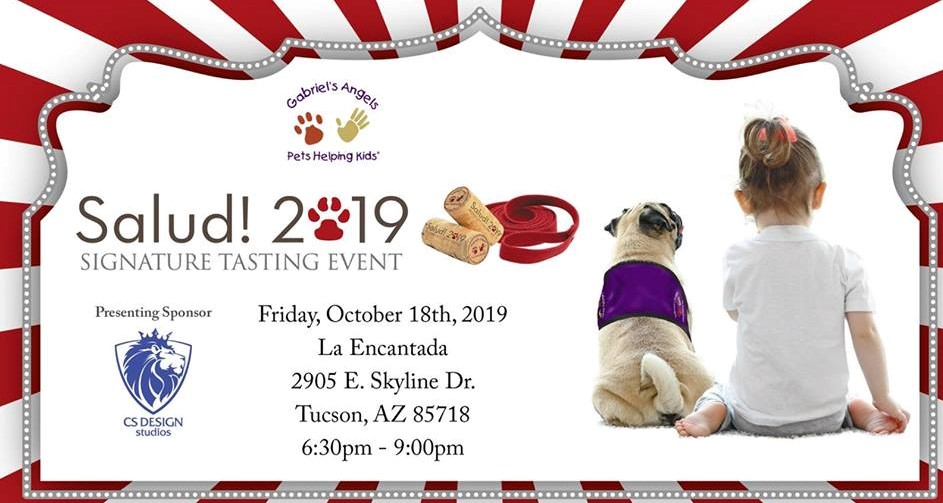 You are Invited!
Join Gabriel's Angels for a Wagnificent party at Salud! Signature Tasting Event! The event will be a carnival-inspired party featuring tasting samples from local restaurants, beverages, acrobatics, music, theme decor and an opportunity to interact with Gabriel's Angels' Pet Therapy Teams.
Friday, October 18th 6:30 - 9 pm in the Main Courtyard

Gabriel's Angels is a child welfare agency that implements pet therapy (dogs) for at-risk children in Southern Arizona. They believe that the unconditional love of a dog can heal a child by teaching empathy, respect, and trust. Gabriel's Angels is unique because they are a non-profit who serves the non-profits of Tucson by serving over 15,000 children per year. Their visits include Emerge Domestic Abuse Shelter, Boys & Girls Clubs, and Underfunded Schools.

All proceeds from this event will support Gabriel's Angels' Southern Arizona program. To purchase tickets click HERE

Presenting Sponsor: CS Design Studios. Entertainment Provided by: Cirque Roots.
For questions and more information, contact Ashley Brown at abrown@gabrielsangels.org, (520) 403-9386. Or visit gabrielsangels.org

Jaguar Club of Southern Arizona Concours D'Elegance Event
October 26, 2019 10:00 AM - 2:00 PM
The Jaguar Club of Southern Arizona presents the 47th annual Concours D'Elegance - an exhibition of ...
Hello Kitty Cafe Truck
November 2, 2019 10:00 AM - 8:00 PM
Hello Tucson! The Hello Kitty Cafe Truck is returning to La Encantada on Saturday, November 2nd! Co...