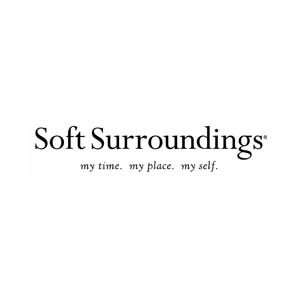 Soft Surroundings
Women of all ages are our customers. Our goal is to ensure that our customers maintain their unique sense of style without sacrificing comfort and to do whatever we can to help you relax into a good night's sleep.
See full property >
Shop our Summer Collection! In Stores Now!
Valid from May 9, 2017 to June 5, 2017
Our Summer Collection has arrived in stores! 
---
Happy Memorial Day from Soft Surroundings!
Valid from May 18, 2017 to May 30, 2017
Get Ready. Get Set. Relax! Happy Memorial Day from Soft Surroundings!
---
Osmotics Beauty Event
Valid on June 24, 2017
Award-winning Blue Copper 5 PRIME treatments combine the anti-aging benefits of copper with a powerful 5-chain peptide. This dynamic duo promotes healthier-looking, smoother skin while it helps to prevent and reduce signs of aging. These moisture-rich formulas increase firmness, elasticity and radiance for luminous, younger-looking skin.  
---