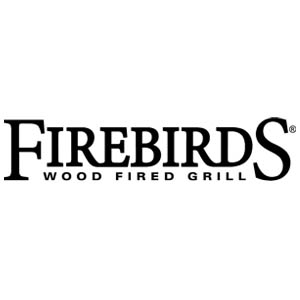 Firebirds Wood Fired Grill
Grilling over the open flame combined with bold sauces and spices creates a unique style of American cuisine. Specialties include hand-cut steaks, herb roasted prime rib, fresh seafood, rotisserie chicken, pasta, burgers and salads.
See full property >
Holiday Gift Card Offer
Valid from November 14, 2016 to January 3, 2017
Firebirds Holiday Gift Cards are the perfect gift for everyone on your list and they are a smart choice for you too!  With every $100 gift card purchase, you will receive $20 in bonus cards!   • Purchase at your local Firebirds Restaurant or online at  www.firebirdsrestaurants.com • Offer valid for gift card purchases through January 3rd, 2017 • Free Bonus Cards valid from Jan. 1st-Feb. 9th, 2017 Buying in bulk? A Firebirds Gift Card is the perfect way to show your appreciate to customers and employees. Purchase $500 - $999 to save 10%. Purchase $1,000 or more to save 20%! We offer expedited shipping and the option to pay by credit card or ACH. Ordering in bulk is quick and easy, visit us online at  https://firebirdsrestaurants.com/gift-cards/  and select Corporate Buying to get started. 
---
New Lunch & Dinner Features
Valid from November 30, 2016 to January 3, 2017
Our Corporate Chef Steve Sturm has created a winter menu that boasts the signature bold flavors for which we are known!  Join us for lunch and enjoy Chipotle Glazed Chicken served on a salad of shaved Brussel sprouts and spinach or if you are in the mood for a burger, try our juicy Bleu Cheese Burger.  Start off your lunch or dinner with our delicious Chile Spiced Calamari. You can't go wrong with the Wood Grilled Twin Filets and roasted Brussels sprouts, squash and sweet potatoes for dinner.  In addition, must-try dinner entrees include our Chipotle BBQ Bacon-Wrapped Jumbo Shrimp and Parmesan Crusted Chicken.  Save room for dessert and enjoy our Banana Cream Pie topped with caramelized bananas, salted caramel and dark chocolate drizzle.  Pair any of the these winter features with Meiomi Chardonnay or Pinot Noir.  Explore the coasts of California – a distinctive California Chardonnay and Pinot Noir with a world-class taste.
---